Minimal Statistics & the Right Sidebar
In this release for our beloved market simulation game we focused on two new features: Minimal statistics and a second sidebar with a lot of interesting market information for the right side.
Minimal Statistics
In the upper right corner you can now get some current statistics about the market.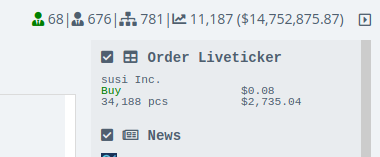 You can see how many users are online, how many users are registered overall, the number of existing companies and the number of trades of the last 24 hours with the corresponding trading volume in braces.

Those statistics are even presented on the login and registration page to show unregistered and currently not logged in users that there is ongoing trading action in this trader simulation game.
The Right Sidebar
The new sidebar on the right offers traders compact information of the market.

It's possible to use the small triangle button next to the minimal statistics to hide the sidebar. The sidebar will stay hidden as long as you do not click the toggle button again. If the layout on the left demands too much space or if you are using a small screen (smartphone or tablet for example) the sidebar will automatically hide itself. In contrast to you clicking the button this is just temporarily until there is enough screen space available to display the sidebar.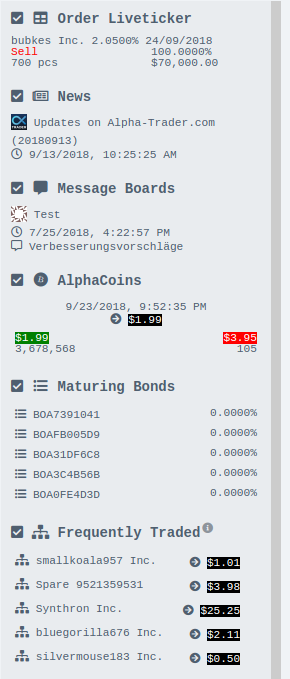 Most information displayed in the right sidebar should be self-explanatory. In those cases in which it is not, there is explaining help available via the small round 'i' buttons. All information in the sidebar is updated automatically and regularly. Price information is even updated instantly.

Letting the sidebar present all information offers a lot of insight about the market for alpha desktop traders, but it can be too much.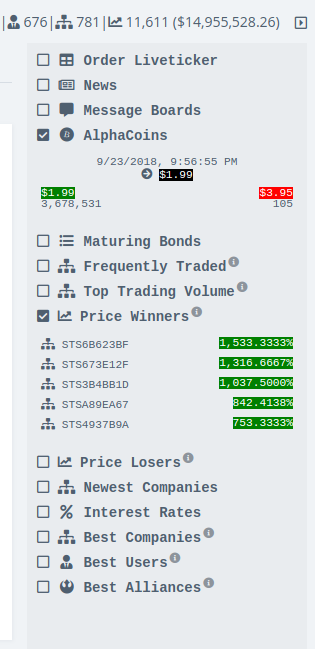 If you do not need all infos and statistics at hand or if you prefer a more compact view of it, you can choose which blocks you wanna see and which you wnat to hide. You can use the small checkboxes next to the titles of the blocks. This decision is saved too and you will from then on only see those info blocks that you wanted to see.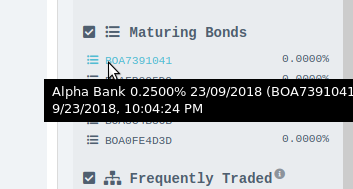 Sometimes presenting the complete infos available would clutter the sidebar and destroy the layout. For example for maturing bonds it is unnecessary to present the complete bond name and ASIN all the time. If you think a ASIN and the ask price look promising hover with the mouse over the link to get more information. This works on all linked securities.
The sidebar offers information about new orders, latest news postings, latest message board postings, bonds close to their maturing date, stocks that were most frequently traded in the last 24 hours, stocks that had the biggest trading volume in the last 24 hours, price winners and losers regarding the difference of their last closing prices, newest companies that were founded by players or spare companies founded by Alphabanker, interest rates, best companies, best users and best alliances.